March 18, 2020 10:45 pm – January 31, 2021 11:00 pm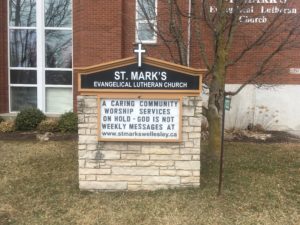 Due to the COVID-19 pandemic, St. Mark's is currently putting all of its worship services and scheduled meetings on hold until further notice. Updates will be posted on this website as they become available.
Click or Tap on the  Sermons & Worship tab for weekly services.
Below is a letter with more details, please click or tap on the link to open.
Below are updates from church council, please click or tap to open the links.
June 2020 update re COVID reopening
September church council update
Oct 2020 Church Council letter