Click link to open this video: Church bells ringing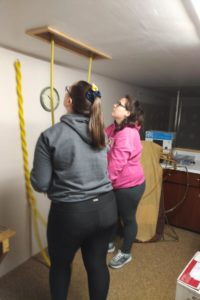 Thank you Susan, Kelsey and Carley for ringing our church bells.

Thank you Abbi and Degan for your beautiful egg rainbow.

Orange Shirt Day – Every Child Matters
So thankful for these 4 gals helping with dishes after our Potluck Picnic on August 18, 2019 🙂
March 8, 2019 at Gleaners in Cambridge prepping "sweet potatoes"!
Family Christmas Program 2018
Christmas Tyme Parade
Senior's Dinner – – – Senior's Baskets

Journey to Bethlehem at St. James' Red Shed
Mayor Joe and Susan holding down the fort (literally) for Pastor Dave!

Welcoming new members through holy baptism
2017 Christmas Pageant
2017 Senior's Christmas Baskets

Fall 2017 Weddings
Sarah & Ben Sarah & Rasti

Summer Services and making smoothies!

2017 Exterior updates! New Roof! Parking Lot! Sidewalk!

Wellesley Habitat Build – July 17, 2017
St. Mark's, St. James and Zion build crew…plus some extras! Great Team Work! Great Day! 🙂
Many Thanks to Karen for serving up sausage on a bun and lots of other goodies to a hungry crew of University Students on July 5th!
Open House to Celebrate Lorne's 90th and Ruby's 85th = 175 years! 🙂
Celebrating 140 Years at St. Mark's on September 11, 2016.
Many Thanks to all who helped make this a special day!
The children were so excited when a lamb came to visit!! 🙂
The comforters along with touch quilts, izzy dolls and pneumonia vests were displayed for all to view at the pancake and sausage lunch.
These ladies … and more, were busy tying comforters on Tuesday afternoons. Thank you for your hard work:)
Joint Christmas Pageant and Choir was a great success at Zion, St. Agatha in the morning and St. Mark's in the evening. Thank you to all who participated and attended!
Thank you to all who supported our Harvest Pie Bazaar, by volunteering your help and by attending. Special Thanks to Karen Doerner for your great leadership and planning of another succesful bazaar!
Blessed by God for 90 years! Happy 90th Birthday Hilda!
Many Thanks to all who supported our Harvest Pie Church Bazaar. It was a successful day! Special Thanks to all who contributed in so many ways 🙂